Tanta festa, tutti in Veneto!
Sabato 24 Marzo 2018 torna l'EVENTO di XTRA + HOTEL + AFTER hour HOT DOG + SAUNA.. tutto a Padova.
XTRA Clubbing riporta tutta la sua energia a Padova!
Musica FUNNY BEATS con Hugo Jarocki from XCUBS!
In Line UP Mauro Tommasi
Voce Yvonne O'Neill
Super gogos: gli Spaceguys Trev, Mirko Maccio, Samir Asmaran
XTRA Revolutionary Clubbing – Evento 7 – Stagione 4
(🇬🇧 English Text at the end)
Would you like to try? PRENOTA subito la tua camera nel gay HOTEL ufficiale! NO STOP NIGHT..
Sabato 24 MARZO a PADOVA – FLEXO CLUB
Evento per tutto il pubblico LGBT
>> AMBIENTE
– Dance Floor
– Bar Corner
– Play Rooms e Area Cruising Terrace
– Gay HOTEL a soli 200 mt con late check-out ore 12:00!
Divertimento NO STOP!
Tanti ragazzi che arrivano a Padova… l'unico evento dove scegli di divertirti come più ti piace!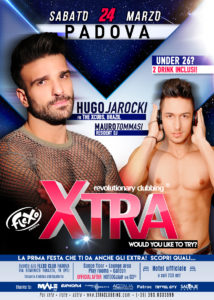 XTRA è la prima festa che ti dà anche gli eXTRA.. e tutta la carica e l'energia che ti serve!
Un party giovane, sempre nuovo e fresco. Solo musica Funny Beats!
Funny Beats è l'innovativa musica progressive/tribal/house con i migliori rmx pop più esclusivi.
XTRA è una one night evento.
>> Prendi gli eXTRA! Quali?…
– Salti la fila se hai il cappellino!
– Hai uno SHOT omaggio se togli la maglia al bar!
– Under 26 hai 2 drink incluse! Basta dirlo in cassa!
>> CONVENZIONE HOTEL – DORMI A SOLI 200 MT dal FLEXO
HOTEL BIRI LATE CHECK-OUT ore 12:00
Da soli 25 euro a testa.
Late check-out fino alle 12:00 e colazione inclusa
Vai avanti col divertimento! 😊
CAMERA SINGOLA € 51
CAMERA DOPPIA USO SINGOLA € 62
CAMERA MATRIMONIALE € 72
CAMERA TRIPLA € 93
CAMERA QUADRUPLA € 100
La colazione, il parcheggio interno, la connessione wifi e l'accesso alla palestra 24h sono sempre inclusi.
City tax € 2.85 a persona a notte.
Sono prenotabili solo telefonicamente allo 049 80 67 700 oppure via mail specificando convenzione XTRA FLEXO a hotelbiri@hotelbiri.com
>> XTRA consiglia:
Andrew Christian Italia – Andrew Christian Italia : http://www.acitalia.it/
Sparta's Harness outfit
Viaggia con Travel Gay
www.xtraclubbing.com
>> COME venire ad XTRA e come mettersi in lista
Fatti invitare dai nostri PR! Info/liste/eXTRA: 393.0333999
Gli eXtra sono validi solo per chi è in lista.
Il drink è incluso in entrambi i casi.
UNDER 26? Hai due drink incluse !!!
Richiedi la seconda drink al momento dell'ingresso alla cassa, dopo le liste!
E' possibile mettersi in lista riduzione fino alle ore 21:00.
Ingresso in lista riduzione fino alle ore 1:00. Dopo le 1:00 ingresso intero.
Info/liste/eXTRA: 393.0333999 (Tel/SMS/Whatsapp)
Tessera Andoss obbligatoria.
Evento ℅ FLEXO CLUB
VIA DOMENICO TURAZZA, 19 – PADOVA
Per arrivare puoi usare anche Bla Bla Car!
🇬🇧 English Version:
Saturday 24th March – Padova, Italy
XTRA Clubbing – Episode 7 – 4th season
Event @Flexo CLUB + After Hour + Gay Hotel + Sauna
XTRA presents
Special guest: HUGO fr XCUBS + YVONE VOICE
The best music fr gay clubs worldwide: progressive/tribal/pophouse
Warm Up: Mauro Tommasi
Dance Floor, Play Rooms, Lounge Area, Corner Bar
Official Gay Hotel: Hotel Biri – Only 200 meters and with special price and late check-out 12:00 with Promo code XTRA FLEXO
The Party is No Stop! After Hour HOT DOG! Next door fr 3:30 AM
Event @Flexo Club in VIA DOMENICO TURAZZA, 19 – PADOVA
Our motto is "XTRA is the first party that can give you an eXtra! Would you like to try?".
By doing so, our clubbers play an active role in the event and in return we give them an eXtra, a benefit!
Take your shirt off, you'll get a free shot!
Come to the door selector wearing a sports cap, you'll have priority access!
And more eXtras every time, which give the party a special feel.