Festival Mediterranea  – MALTA – 18-21 July 2019
Fancy something new? 
The NEW holigay summer destination. HoliGay the Mediterranea Festival develops in four days, from Thursday, July 18 to Sunday, July 21, 2019 in Malta.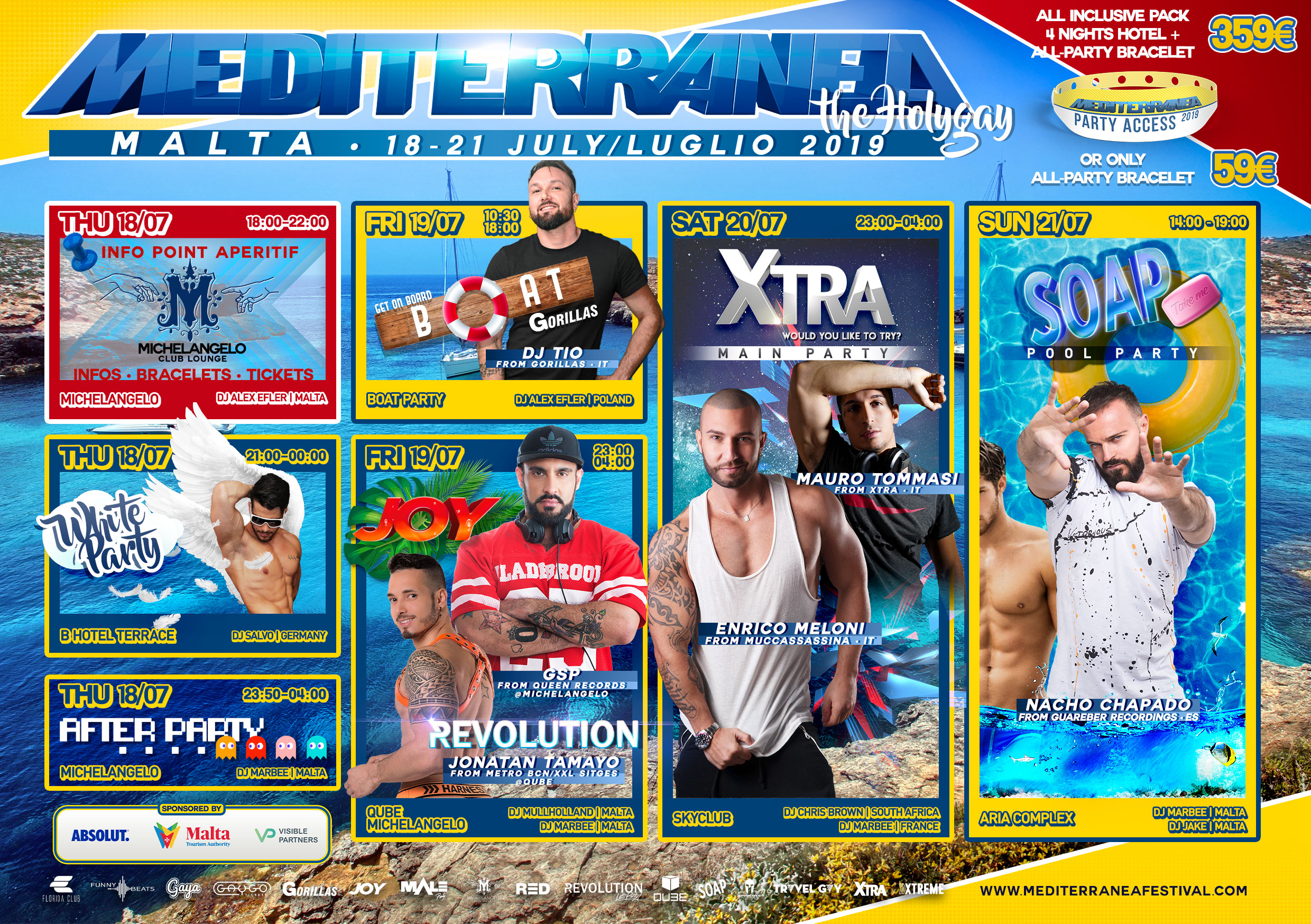 Each day a different event with music and entertainment, a circuit party gay style. 
5 night events and two daytime events for you to enjoy Malta and the warmth of those who actually live. 
From party ship, the white party, the afternoon by the pool or gay beaches. The night will always party with all international djs, gogo boys and partners from around the world: Michelangelo Club, Joy, Xtra, Revolution, Soap, Gorillas. 
Some of the guest dj names: Enrico Meloni, Nacho Chapado, GSP, Mauro Tommasi ..
You can buy the package HOTEL + BRACELET VIP! Live the official festival hotel directly with all artists and students on holiday. You included in your stay: gym, breakfast and a pool. 
You can choose instead to buy only the PASS BRACELET allows you to access all the party (*) with an exclusive price. Do not miss the advantage of a holiday and many parties. 
Includes:
white Party

Michelangelo Disco Party

Revolution Party

Metro Barcelona and Sitges XXL partners

Joy Party

Xtra Party Main

SOAP – Pool Sunday
The bracelet is also in PASS VIP version . 
Priority access to parties and included a free gadget for you.
Do not miss the exclusive BOAT PARTY Friday afternoon. Limited seating, amazing tour and gay beach. 
Not included in the pack hotels and bracelet. Buy the BOAT PARTY individually. 
All parties will soon be purchased individually, but you can save now with bracelet all parties.
(*) Boat Party Friday Tour not included in the pack or bracelets